18th Jul, 2017: IBA CEIF Director Meets with Senior Professionals within the Islamic Finance Industry, Maldives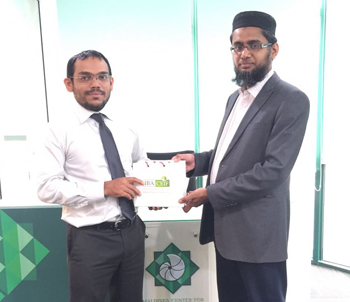 Mr. Ahmed Ali Siddiqui, Director, IBA Centre for Excellence in Islamic Finance met with a number of senior industry professionals during his visit to the Maldives.
Within the training sector, Mr. Ahmed met with Mr. Ibrahim Didi, the Managing Director for the Maldives Center for Islamic Finance to discuss future prospects for collaborations in terms of training and education.
He also met with the senior management of the Bank of Maldives Islamic, including Mr. Zulkarnain Bin Taman, Director of BML Islamic, Ms. Fathimath Manike and Mr. Ahmed Firas and their team.
On his trip to Seychelles, Mr. Ahmed met with the First Deputy Governor and Mr. Naadir Hassan, Head of Financial Services Supervision of the Central Bank of Seychelles.